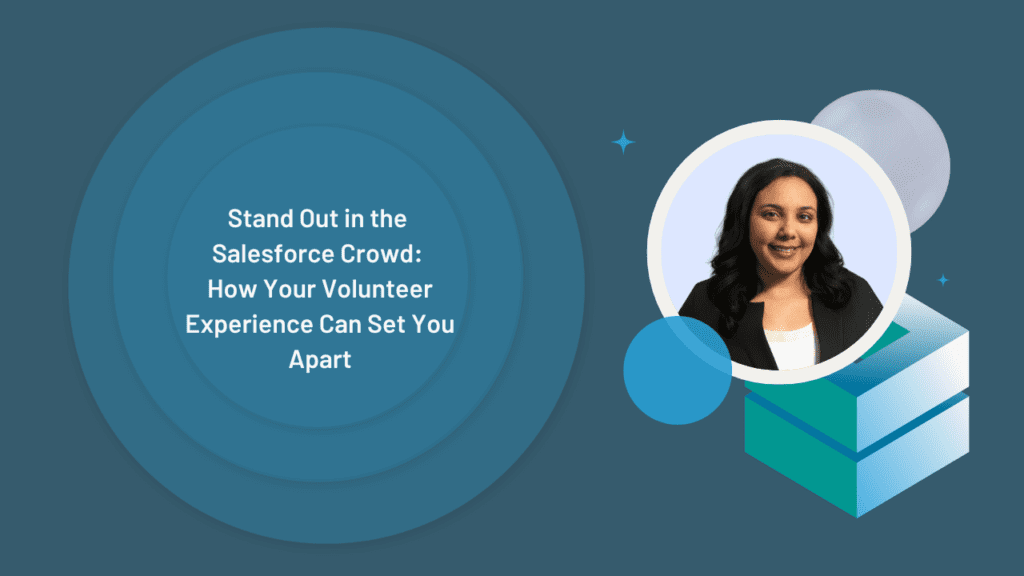 Highlighting Volunteer Experience on LinkedIn
As a member of the Talent Stacker Career Advancement Program, I understand the importance of continuous learning, upskilling, and personal branding. With professional networking platforms like LinkedIn being essential for career development, showcasing unique skills, experiences, and achievements is vital. In this blog post, I'll discuss the value of highlighting volunteer experience on LinkedIn, particularly for those pursuing careers in the Salesforce ecosystem. I'll share my own volunteering experiences and explain how emphasizing these experiences can showcase your transferable skills and prepare you to discuss their relevance to your desired career in the Salesforce space.
Part I: The Importance of Emphasizing Volunteer Experience
Demonstrating Core Values and Transferable Skills: Highlighting your volunteer experience on LinkedIn can showcase your core values, which is essential for those pursuing careers in the Salesforce ecosystem. By sharing these experiences, you demonstrate your commitment to social responsibility and make a positive impression on potential employers or connections. Additionally, your volunteering experiences can highlight your transferable skills, such as leadership, communication, and problem-solving, which are valuable in a Salesforce career.
Connecting Experiences to Your Desired Career: When selecting volunteer experiences to include on LinkedIn, focus on those most relevant to your professional goals in the Salesforce space. This helps create a cohesive personal brand and highlights your dedication to causes that resonate with your network. It also allows you to practice articulating how your volunteer experiences have prepared you for a career in Salesforce.
Part II: My Volunteering Experiences and Their Relevance to Salesforce Careers
PTSD Foundation of America: As a volunteer caregiver support group co-facilitator for the PTSD Foundation of America, I developed valuable skills in leadership, communication, and empathy. These skills are crucial in a Salesforce career, where effective communication and collaboration with team members and clients are essential.
Trauma REBOOT Leader: In this role, I led weekly virtual sessions for a diverse group of participants, demonstrating adaptability and resilience. These experiences highlight my ability to work in diverse environments and adapt to various situations, which is beneficial when working with different Salesforce clients and projects.
Vice President of Membership – UniGroup Toastmasters: As Vice President of Membership, I collaborated with club leaders to create content for communication and recruitment efforts. This experience emphasizes my ability to foster collaboration, develop marketing strategies, and build relationships, all of which are valuable in a Salesforce career.
Notetaker – Office of Disability Access: By providing notes for students who are unable to take notes during class, I helped ensure equal access to course material. This experience demonstrates my dedication to inclusivity and accessibility, which aligns with Salesforce's commitment to equality and diversity.
Preschool Coach at Lakepointe Church: In this role, I oversaw planning and logistics for weekly preschool programming, leading and supporting a team of volunteers. This experience shows my commitment to education and my ability to manage teams effectively, which is an important aspect of managing Salesforce projects.
Highlighting volunteer experience on LinkedIn can create a powerful personal brand and set you apart as a Talent Stacker pursuing a Salesforce career. Showcase your most relevant and impactful experiences to demonstrate your core values, unique skills, and dedication to the causes you are passionate about. By doing so, you'll create a stronger LinkedIn profile and increase your chances of attracting new opportunities in the Salesforce space.